Rental car Zimbabwe: Enjoy flexibility and independence
Book a rental car and discover Zimbabwe on your own. The African country has something for every taste. Simply book your dream car for Zimbabwe online in advance. What are you waiting for? Pack your backpack and look forward to an exciting journey through Zimbabwe with your rental car!
Visit these exciting cities in Zimbabwe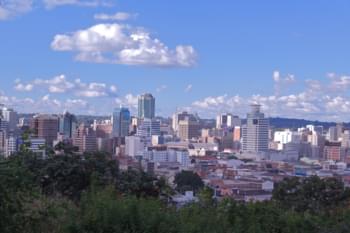 Visit Harare in Zimbabwe
You should definitely visit the capital of Zimbabwe, Harare. You can either take your rental car or walk. In Harare you can go shopping, visit a museum or take a leisure stroll through the avenues bathed in purple. After an exhausting day, you can have typical dinner in one of the restaurants. And don't miss out on the nightlife!
You will definitely not get bored during your trip to Harare!
Bulawayo is the second largest city in Zimbabwe and impresses with its charming colonial architecture. Stroll through the thriving parks and streets with Victorian houses or visit a museum. The city is also a good starting point for Hwange National Park.
Also visit the cities of Zaka and Chinhoyi. You can find pick-up points for your rental car in the city centers.
What can I do in Zimbabwe?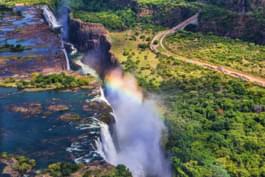 Rainbow over the Victoria Falls
Whether you are looking for action, relaxation or both - if you're travelling in Zimbabwe by rental car, you can tailor your trip to suit your needs. Watch wild animals in one of the national parks, go for a hike or embark on an adventurous ride with a zipline. Whatever your plans for Zimbabwe are, you will fall in love with the country.
Here are a few tips on what to do in Zimbabwe:
If you arrive at Victoria Falls Airport or Bulawayo Airport, it is worth picking up your rental car directly at the airport. In this way you are mobile right from the start.
Discover Zimbabwe's landscapes by rental car
Do you love the vastness of Africa? Do you feel like watching elephants, hippos, crocodiles, lions and much more? Then you should absolutely drive to Mana Pools National Park in your rental car. The park is a World Heritage Site and lies at the border to Zambia. A definite must for every safari enthusiast!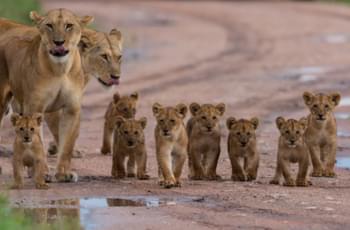 Watch baby lions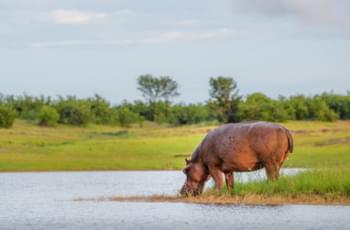 Hippo in Zimbabwe
Lake Kariba is considered to be the largest dam in the world. It is 223 km long and up to 40 km wide. Especially at sunrise it offers a unique scenery when hippos appear between the remains of trees. If you choose a houseboat as accommodation, you can watch the animals from your bed in the morning.
If you are travelling to Zimbabwe by rental car, you should also visit the following places:
Hwange National Park
Greater Zimbabwe
Eastern Highlands
Nyanga National Park
Worlds View