Car rental Tunisia: By car in North Africa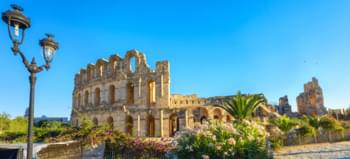 The Amphitheatre "El Djem" in Tunisia
Tunisia is a North African Sahara state and is located about 140 km from the coast of Sicily. It is famous for its rich cultural heritage, such as numerous Roman mosaics and the amphitheatre "El Djem", which is still used today as a theatre.
Experience Tunisia's piece of the Orient at close quarters with your rental car. Take your rental car on a tour of Tunisia and discover these treasures for yourself. Whether you want to get to know camels, the desert, local bazaars or historical sites - with your rental car in Tunisia you can travel the 1300 km coastline in the best way.
Car rental at Tunisia airports
The easiest way to pick up your rental car is directly after your arrival at the airport in Tunisia. We recommend that you book your rental car online before your holiday in Tunisia. In this way, you will usually benefit from early booking prices. In addition, you have no stress on site and do not have to bargain for the price as usual in Tunisia, because you have already booked the rental car through us. All you have to do is pick up your rental car at the pick-up station at the airport from our partner. Pickup stations are located in Tunisia at Djerba Airport, Enfidha Airport and Tunis Airport. Driveboo works with all major car rental companies in the country.
Rental car Tunisia: The traffic rules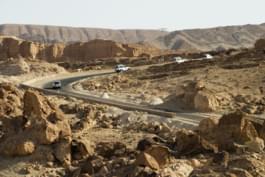 Offroad through the Tunisian desert
Tunisia's road network comprises a total of 29,000 kilometres of roads, of which around 60 percent are paved. Often the side roads are in poor condition and local motorists do not always follow the traffic rules as closely. It is also valid in the roundabout right-for-left. A red and white curb means that parking is forbidden. In addition, Tunisia has a limit of 0.0 per thousand.
Do I need an international driving licence in Tunisia?
Yes, an international driving licence is required in Tunisia.
What fines are there in Tunisia?
Driving under the influence: 51 - 2,520 Euro and there is a risk of one to six months imprisonment. In the event of an accident, the fine can even be up to 3013 euros, with prison sentences ranging from one to four years.
Over speeding: between 61 - 200 Euro. In addition, there is a driving ban of one to six months.
Telephoning in the car is only allowed with a hands-free device.
What are the speed limits in Tunisia?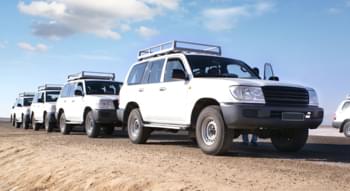 The Tunisian desert by rental car
While travelling through Tunisia by rental car, you should pay attention to the following speed limits:
In cities: 50 km/h
Outside built-up areas: 90 km/h
Motorways and expressways: 110 km/h
We wish you safe travels and lots of fun in Tunisia!