Car rentals in Seychelles: Most popular car rental destinations
Rental car Seychelles: Explore paradise on earth
White sandy beaches, crystal clear water and perfect temperatures: get into your rental car and discover the dream spots of the Seychelles on your own. The archipelago in the Indian Ocean off the east coast of Africa is the dream destination par excellence and attracts water sports fans, nature lovers and sun worshippers every year. If you want to explore the postcard-like dream beaches and small towns of the Seychelles, then book a rental car on Driveboo.com. On our portal you can compare the prices of car rentals and choose the best offer. What are you waiting for? Book your dream car from home in advance. All you have to do is pick it up at the car rental when you arrive in the Seychelles. Look forward to a wonderful holiday in the Seychelles!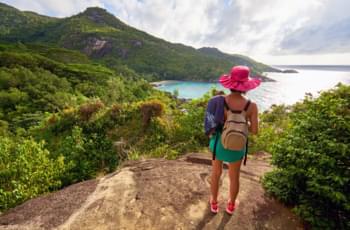 Enjoy the nature of the Seychelles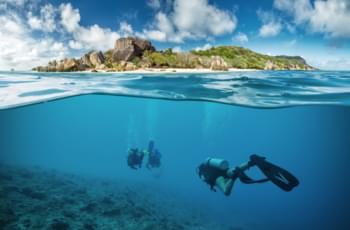 Diver on the Seychelles
Car rental Seychelles: Where can I get my rental car?
You can pick up your rental car either in Victoria or at one of these airports in the Seychelles:
Praslin Island Airport (PRI)
If you pick up your rental car at the airport, you won't be dependent on public transport or a taxi, but will be able to start your holiday flexibly.
The right rental car for your holiday in the Seychelles
On Driveboo.com you can select your desired vehicle model for your trip to the Seychelles. Whether a small car, a compact class or an SUV - with the right rental car, your holiday in the Seychelles is guaranteed to be an unforgettable experience! In addition to the desired model, you can also select additional options such as air conditioning, additional driver or automatic transmission.
This should be noted:
In order to enjoy your holiday completely stress-free, we recommend that you take out fully comprehensive insurance without excess. In this way, you will not incur any additional costs in the event of damage!
The islands of the Seychelles
The archipelago consists of 115 islands, of which Mahé, Praslin and La Digue are the three main islands. You should definitely visit these islands when doing island hopping.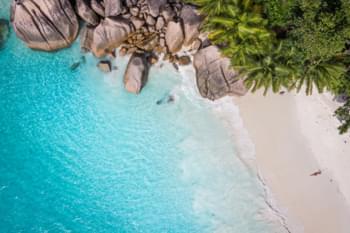 Discover lonely beaches on the Seychelles
But many of the smaller islands are worth an excursion as well. In the table below you will find a small selection:
Denis
Desroches
Silhouette
Frégate
Curieuse
Discover the highlights of the Seychelles
Leave your rental car and discover the Seychelles by foot. Don't miss these sights in the Seychelles:
It is worth booking the hotels in advance
Book your accommodation for the Seychelles from home just as your rental car. You can find suitable hotels on HolidayCheck. In that manner your holiday in the Seychelles is going to be relaxing and fun!