Car rental in Pattaya City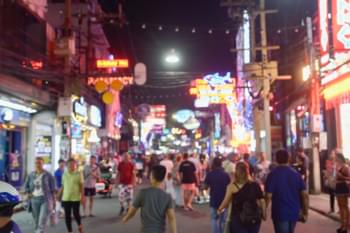 Nightlife in Pattaya
Pattaya City is a world-famous city on the Gulf of Thailand that attracts millions of tourists and car rental travellers every year, especially with its unique nightlife. The population is estimated at 400,000 or more, making Pattaya City larger than the provincial capital Chon Buri. The city extends over 15 km directly on the coast and is ideally discovered by rental car. Coming from Germany you land at international airport Bangkok (IATA Code BKK) and pick up your rental car at the airport. Pattaya City is 130 km away from the Airport BKK, the way over the well developed motorway is perfectly signposted. Ideally you rent your car on our portal before your journey at a reasonable price and equipped with a navigation system. This makes the trip to the booked hotel effortless. We would like to draw your attention to worth seeing destinations , which you can approach comfortably with your rental car at any time.
Car rental Pattaya - Traffic rules and info
The Thais are predominantly passive and polite road users, as soon as you get used to driving on the left, driving in the kingdom is really fun. In the case of a collision, you can remain relaxed with a full comprehensive policy without excess . This position is also recommended for general traffic checks. Here are some important rules:
No speed limits in towns, but drive slowly.
International Driving License required.
Drive carefully.
Call the police in case of an accident.
Summer in Pattaya: Experience Thailand on your own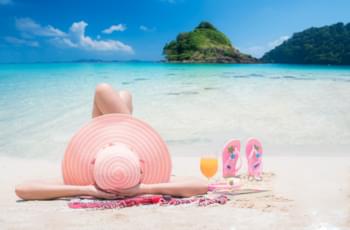 Relaxing at the beach in Pattaya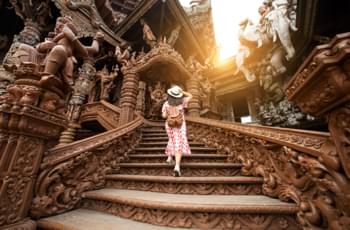 Discovering temples in Pattaya
With the Rental Car to Big Buddha in Pattaya
To reach this glorious viewpoint by car, take Beach Road to Walking Street, turn left and take the first right. From there the hill of Pattaya City is signposted and in five minutes you are on top. You park your rental car below at the radio station and walk about 100 meters to the Golden Buddha.
Rent a Car in Pattaya and discover Thailand
Experiencing For example, if you rent a car at BKK airport, you could take a car to Pattaya City and then travel to Chiang Mai. This plan can be implemented problemfree and inexpensive with the one-way rental . You choose Chiang Mai Airport as your return location and return the vehicle at the same car rental company.
What should I pay attention to with a rental car in Pattaya?
The right insurance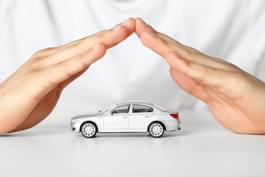 Rental car insurance
You can rent cheaply with us in every vehicle class, but with insurance you should always consider a full comprehensive policy without excess. This means that you have holiday costs under control, because the insurance company settles all claims in the event of an accident. With the variant with deductible, you participate in the costs.
Deposit for the rental car
Every car rental company requires a rental car deposit, which will be blocked on your credit card when you pick up your car at the airport. You can dispose of the amount as soon as the car is returned.
Including an additional driver
This process must be carried out on site at the car rental company and should not be underestimated in its importance. The insurance cover for the rental car is limited to the policyholder and registered driver. If an unlisted driver causes an accident, the insurance cover expires at your expense.
With the rental car to highlights in Pattaya's surroundings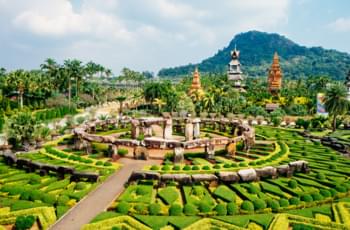 Nong Nooch Botanical Garden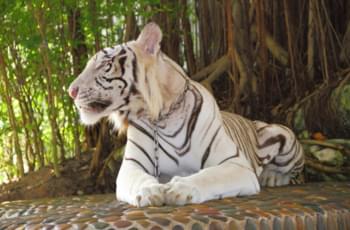 White tiger in Tiger Zoo
Royal Garden Wax Museum
Royal Garden is a building on Beach Road with multi-facetted offers, where you will find high-quality clothing, curiosities, entertainment, cinemas, restaurants, bars and an entertaining Wax Museum. We recommend the excursion on hot afternoons, the multi-storey building is perfectly air-conditioned and in the basement you get a parking space for your rental car.
Nong Nooch Botanical Garden
You can explore Thai architecture, tradition, lifestyle, nature and much more on a car trip to the tropical garden of Nong Nooch. The 240 hectare garden is located 18 km south of Pattaya City and is clearly signposted along Sukhumvit Road. The complex is excellently maintained and designed with multifaceted vegetation. The visit is worthwhile.
Tiger Zoo Si Racha
Si Racha is a place 35 km north of Pattaya City, which has among other things a zoo with hundreds of tigers to offer. The generously designed facility is now also populated by crocodiles, elephants and other animals threatened with extinction in Thailand. It guarantees an entertaining stay with numerous gastronomic establishments. Pattaya City has a wealth of tourist attractions that we cannot describe here. If you rent a car at the airport or hotel, you will receive information in English.