Car rental Nepal: A journey to the highest country in the world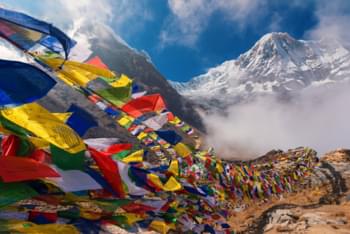 Mountains in Nepal
Look forward to a round trip by rental car through Nepal, the highest country in the world. Discover numerous stupas, hike through incredible landscapes and immerse yourself in the fascinating culture of Nepal. With a rental car you can explore the varied country flexibly on your own. You will find the right vehicle for your trip on Driveboo.com. It is best to pick up the car of your choice directly after your arrival in the capital Kathmandu. In this way you will be mobile right from the start.
Discover exciting places in Nepal by rental car
The capital of Nepal, Kathmandu, couldn't be more contrasting: dirty, dusty streets and right in the middle there is the "Garden of Dreams", an oasis amidst the hectic hustle and bustle. In the immediate vicinity you can find the business district Thamel with its countless small shops and cafés with roof terraces. Park your rental car and stroll through the many narrow streets. On your trip to Nepal, try the typical Nepalese dish "Dal Bhat" and the dumplings called "Momos".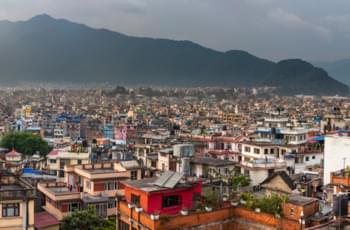 Visit Kathmandu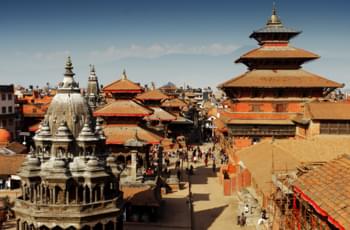 Durbar Square in Kathmandu
Bhaktapur - The Living Museum
A definite must-see on your Nepal trip should be a visit to the city of Bhaktapur. With a rental car it will take about half an hour from Kathmandu. The whole city reminds of a living museum due to the numerous temples. Stroll through the alleys, treat yourself to a dhow - Baktapur's famous yoghurt - and enjoy the atmosphere.
TEMPLES AND STUPAS IN NEPAL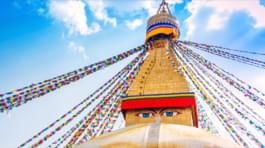 Stupa in Nepal
No matter in which direction you look in Nepal, you will discover stupas, temples and other exciting buildings everywhere. Many of the temples have almost unspeakable names. Visit for example Swayambhunath, Boudhanath or Pashupatinath. The best way to get to the various sights is by rental car. A walk is usually very long and exhausting.
Trekking and other activities in Nepal
When you think of Nepal, you automatically think of the Himalayan massif with the highest mountains in the world. There are countless different trekking tours on which you can leave the stress of everyday life behind you for a while. And don't miss these activities:
Meditation course in Lumbini, the birthplace of Buddha
Panoramic flight to Mount Everest
Motorcycle tour through the mountain and valley landscapes
Festival of Lights in November
Safari in Chitwan or Bardia National Park