Book a cheap rental car in Mauritius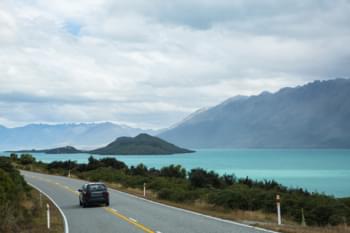 Explore the beauty of Mauritius by rental car
Mauritius is one of the most magnificent travel destinations worldwide. It is best to discover the dream island of Mauritius with a rental car. Drive to secluded beaches and enjoy the solitude of white beaches. With a rental car you are flexible and definitely in the driver seat of your dream trip. The easiest way to book a rental car ist beforehand online. This saves you money, time and stress. Immediately pick-up your rental car upon arrival on Mauritius and explore the island. We compare you the best offers for cheap rental cars on Mauritius.
What is worth knowing about Mauritius?
Where is Mauritius? The island state of Mauritius is located in the southwest of the Indian Ocean about 870 kilometers east of Madagascar. In addition to the main island of Mauritius with its capital Port Louis, the state territory includes Rodrigues, the Cargados-Carajos Islands and the Agalega Islands. On which side do people drive on Mauritius? As a remnant of the English colonial period, Mauritius is still today still considered the left-hand traffic. Most of the traffic is handled by the 1600-kilometre-long network of roads, most of which are paved - so you can explore Mauritius with your rental car in a very flexible and comfortable way. However, you should be careful on particularly narrow roads, as oncoming traffic can also occur here. M2, a kind of motorway, runs from the small seaside resort of Grand Baie via the capital Port Louis to the international airport in Vieux Grant Port.
Renting your car directly upon arrival at the airport
Take a rental car to Port Louis in Mauritius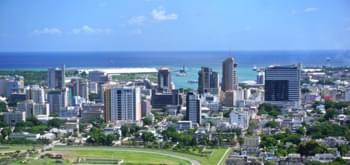 Drive to the bright and vibrant city Port Luis
The capital of the island state of Mauritius is easily accessible by rental car. Port Louis is the largest city in Mauritius and also the cultural centre of the state. A visit to Port Luis should therefore always be planned on your trip. In this city you will find everything you need for further road trips. Take your time and spend a day in the capital of Mauritius. Afterwards you can set off to your next adventure to the countryside of Mauritius.
What is worth seeing in Port Louis?
The citadel Fort Adelaide
the Blue Penny Museum
Minakshi Temple
Renting a car in Mauritius and Curepipe
The fourth largest city on the island ist Curepipe. It is located in the interior of Mauritius on a plateau. Curepipe is a small town known for its colonial buildings in the city centre. The city centre has many charming little cafés which you can visit during a break from your city stroll. Rent a car in Mauritius and explore this beautiful city by the turquoise sea.
Visit Chamarel by rental car
Continue by rental car through Mauritius to Chamarel, a small town in the southwest with about 700 inhabitants. Chamarel is best known for its natural beauty.
What is worth seeing in Chamarel?
The seven-coloured earth
The Chamarel Waterfall
The Black River Gorges National Park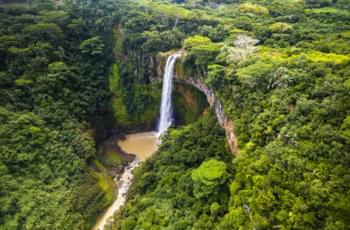 Explore the Chamarel waterfall in Chamarel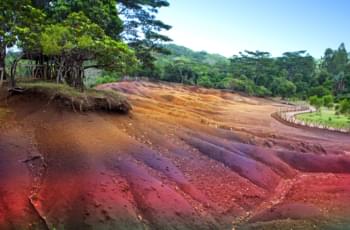 Explore the seven Coloured Earth in Chamarel