Car rental at Marrakech Airport (RAK)
Would you like to fly from Europe to Morocco and get into your own rental car directly at Marrakech Airport (RAK) to explore Marrakech and its fairytale surroundings with a rental car? Then it makes sense to compare car rentals at Marrakech Airport already from home in order to book a suitable rental car. Explore Marrakech and the surrounding area by rental car on you own. In this way, you are mobile and independent all the time.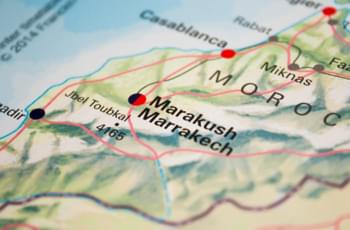 Marrakech in Morocco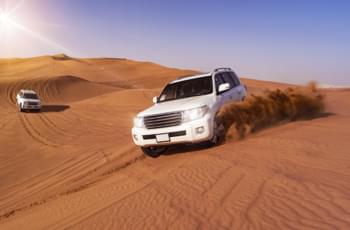 By rental car through the desert
A summer in Marrakech
Anyone who has seen the film "A Summer in Marrakech" has probably been dreaming of an adventure like in 1001 Nights for a long time. Let your dreams come true and travel in summer to the Moroccan city of Marrakech. Stroll through the alleys of Marrakech and absorb the smells and impressions. If you want to get some peace and quiet from the colorful hustle and bustle of the city, you can take a tour through the desert in a rental car or relax with a cup of tea on one of the roof terraces. Summer in Marrakech is truly a feast for all senses.
Where can I find the pick-up station for the rental car at Marrakech Airport?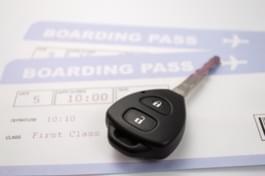 Car rental at RAK Airport
Whether you arrive at Terminal 1 or Terminal 2 at Marrakech Airport (RAK) depends on the airline you choose and the volume of air traffic. After you have left the plane, a short walk will take you to the baggage carousel and you can then pass through customs. Please look out for the "public zone" in Terminal 1, where the car rental counters are located to receive your car documents and keys.
Interesting facts about the car rentals at Marrakech Airport
Collect you rental car at one of the following car rental companies at Marrakech Airport:
AirCar
Avis
Budget
Dbilij Car
Ennasr Car
Europcar
France Car
Hertz
Sixt
Where can I refuel my rental car at Marrakech Airport?
Unfortunately, Marrakech Airport does not have a public filling station, so if you need to return your car with a full tank, you should fill it up on the way to the airport. In general, there are petrol stations on all major arterial roads, most of which are open 24 hours a day. The nearest total service station is located at R212, Quartier Résidentiel Mhamid, Route de l'aéroport.
Our tip: In the Spanish enclaves of Ceuta and Melilla you can refuel cheaply duty-free in European currency.
Rent a car at Marrakech Airport (RAK) - on the way to a fairy tale of 1001 nights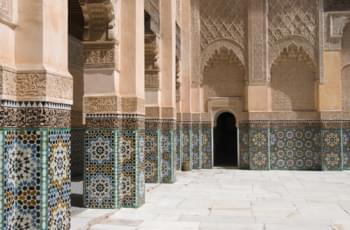 Medersa Ben Youssef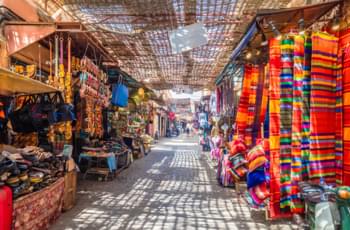 Medina, Marrakech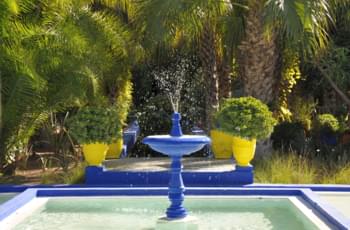 Jardin Majorelle
Thanks to its convenient location, you can reach the center of the city from Marrakech Airport in just 20 minutes by car, so you can embark on an adventurous journey of discovery right after checking in at your hotel. Take a look at the Ben Youssef Medersa, one of the impressive Koran schools, stroll through the alleys of the medina, visit the Museum of Moroccan Art "Dar Si Said" or escape the hustle and bustle in the Jardin Majorelle, a botanical garden of the highest order. If you are planning to take a round trip with your rental car, we have listed below some distances and driving times for your convenience:
General information about Marrakech Airport
Has your departure been delayed? Then you can easily pass the time at Marrakech Airport. Just take a look at one of the many stores, eat a snack in the restaurants or stock up on souvenirs in the duty-free area on your return flight.
Important note: Unfortunately, the information desks at the airport are often not manned, so if you have any further questions, you might want to contact your rental car station directly. In addition, there is no free internet available at the airport!
Car rental Marrakech Airport: Your starting point for a great round trip
Due to the geographical location of Marrakech, various day trips or round trips with a rental car are very convenient. Why not take a day trip to Cascades d'Ouzoud, 150 km away, a 110-meter-high waterfall, one of the highest in North Africa, take a look at the many grain mills or stop for a rest on your way and trade in your rental car for a camel ride into the sunset. But also a drive along the impressive coast with its untouched bays will give you unforgettable moments. If you prefer to stroll through the bustling markets of the cities, you should not miss a visit to Casablanca or Rabat.
Emergency numbers and traffic rules in Morocco
If you get involved in an accident with your rental car, your should immediately inform your car rental. Please never sign an accident report without a reliable translation and get a copy of it or the accident report from the police to avoid being arrested at the airport for possible hit and run.
Blood alcohol limit:
No parking:
in red-white marked areas
Emergency numbers:
Police (inner city 19/exterior 177)
Fire department (15)
Breakdown service (+212 (222) 0 03 96)