Discover Jakarta, Indonesia by rental car
Jakarta is the capital of Indonesia and lays on the island Java. Picking-up a rental car at the Soekarno-Hatla International Airport (CGK) is the perfect start point to start discovering the sights and landscape of beautiful Indonesia and Java. Driveboo enables you to choose from a pool of premium partners, to compare different vehicle types and classes. We not only find you the best deal based on the price, with our filter function, there are no bad surprises. We ensure to make your search and hopefully booking as easy and transparent as possible. Choosing the right car for Jakarta and Indonesia can seem overwhelming.
What is to explore in Jakarta and on Java
With 10,4 million citizens, Jakarta is not only the highest populated in Indonesia, but also the biggest city in South-east Asia. Jakarta and Indonesia in general is very diverse in culture and landscape. When you are about to explore Java, your first stop will be probably Jakarta. Beside Malaysia, you will explore an accumulation of the most diverse ethnics coming together in Jakarta. There are living a variety of Malay, Arabic, Indian, Dutch and Chinese people. The interesting thing about Indonesia and South-east Asia in general is, that so many different religions and cultures live side by side in peace mostly without restricting each others life.
What is to see in Jakarta?
Grand Indonesia Mall
Istiqlal-Mosque
Ancol Dreamland
National Monument
Thousand Islands
Jakarta Old Town
The real fun with your rental car begins once you get out of Jakarta and start to explore Java. When it comes to Indonesia, the first thing that comes to people minds is Bali or Lombok. Many tourists miss out that Indonesia has way more to offer than only the more common, more crowded tourist hotspots. Java is more diverse than these islands, you have mystical jungles in the west to explore, savannah in the east, and huge Indonesian culture in the south. Jakarta with the Soekarno-Hatla International Airport (CGK) is the perfect starting point to explore Java. Java is in between Bali on the west and Sumatra on the east. It's best to visit Indonesia and Java during the dry season, as you can otherwise expect a lot of rain otherwise. And when driving a car, no one wants to be stuck in a tropical rain fall. So in case you want to make sure you get out the best of your journey, plan according to the dry season.
What places to visit on Java?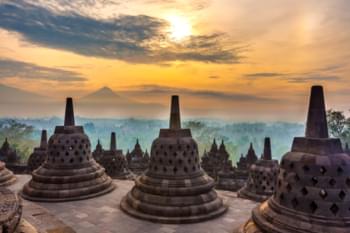 Yogyakarta Prambanan
Yogyakarta is the cultural center of not only Java, but also for whole Indonesia. While the majority of people in Indonesia are Muslims, the Prambanan in Yogyakarta are the biggest and most impressive Hindu Temple in Indonesia and in some opinions even the most impressive in south-east Asia. The temple also became a UNESCO Wold Heritage. If you are in eager for some shopping along your road trip, you should visit the mall called Jalan Malioboro. Where to eat in Yogyakarta? The famous street food market close to Jalan Wongsodirjan, offers you authentic, real Indonesian food which is low in price. Other things and places in Yogyakarta are the Indravanti Beach, Wediombo Beach, Sono-Budoyo Museum, Kraton Kasultanan Ngayogyakarta, rafting on the Progo River, Gembira Loka Zoo, Beringin Trees, Affandi Museum, Taman Sari, Ullen Sentalu Museum.
Visit the Prambanan in the evening before sunset. In that case you avoid the crowds, see the temples by day and have an amazing sunset.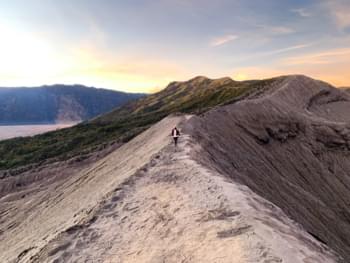 Mount Bromo
Another great destination to reach by rental car is the Mount Bromo which is located in the east of Java and the most active volcano on the island. Safe your time a lot of struggles and money to get there, by renting your car in advance with us. If you are lucky enough to have good weather while visiting the Mount Bromo, you will explore one of the most stunning sunrises you will ever experience. In order to make sure you get the most out of your Mount Bromo experience, start your tour actually around midnight, as it is better to reach the mountain a bit earlier, than later. If you are worried about the road, you can also hire one of the Jeep tours, which are slightly more touristic but are ensuring you to get to the viewpoint by time. There are also people who reach the viewpoint by scooter, which is a more budget friendly option. Make sure you bring some warm clothes with you, as it can become freezing along the way. You should start your Mount Bromo tour either by staying in Malang or Surabaya.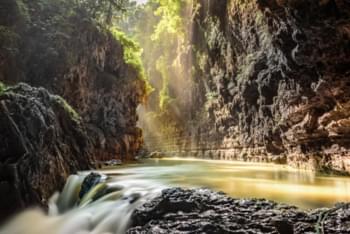 Pangandaran Canyon
The west of Java is even more far from off the crowds. What is to do in Pangandaran? Basically there are two beautiful beaches, where you can easily learn to surf as the beaches are with sand-bottom and less crowded than all the beginner spots on Bali or even Lombok. Another great thing to explore in west Java is to explore the canyons in Pangandaran. In between jungle, you won't find many tourists, so don't be surprised to have a river on your own. Take a personal boot tour, which is cheap and serving the local people. They will take you to paths, which not many people before has experienced and will take great care of you.
Driving a car in Jakarta and Indonesia in general
As the weather is overall tropical, it is highly suggested to rent a car with an air conditioner. As you will stuck a lot in traffic do yourself a favor and filter for cars with automatic gear shift.
Useful tips and tricks for driving a car in Jakarta:
Indonesia drives on the left side
Rush hours are to avoid
Never crank down the window on red lights
Make sure you obtain the 3 in 1 rule when considering entering some areas
Workers will refill your car at the gas station so you can easily stay in
Be aware of drivers that want to cut your lane
Leave a bit of space between the lanes for the many motorcycles to avoid crashes
Comply with the police if they stop you