Rental car Brunei Darussalam: Explore the Sultanate of Brunei on your own
The Sultanate of Brunei Darussalam is certainly not at the top of many bucket lists. But the small country has a lot to offer and is especially easy to explore by rental car. Visit the capital of Brunei Darussalam, Bandar Seri Begawan, which is the most popular destination of the country by rental car. Simply have a look on Driveboo.com and book your dream car at the best price. If you want to be mobile in Brunei Darussalam from the very first minute, you can pick up your rental car at Brunei International Airport right after your arrival.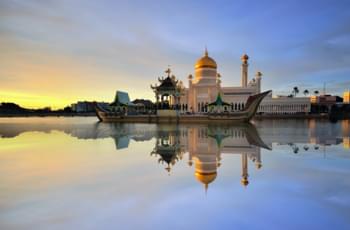 Mosque in Bandar Seri Begawan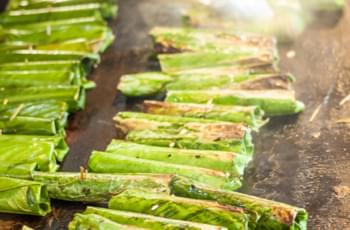 Traditional food in Brunei Darussalam
What are the options for my rental car in Brunei Darussalam?
You can select these options when booking your rental car on Driveboo.com:
Visit the highlights of Brunei Darussalam by rental car
THE CAPITAL BANDAR SERI BEGAWAN
In the capital Bandar Seri Begawan you can visit numerous sights or make excursions in the surroundings. Make sure you visit the water village of Kampong Ayer. Almost 40,000 people live here in pile dwellings. If you feel like shopping, you can stroll through the shops in the Gadong district.
The Temburong District lies east of the Sultanate and is separated from the rest of Brunei. To reach the district you have to leave your rental car and take the boat. But the crossing is worth it - here you can visit Selirong Island in Brunei Bay or Temburong National Park.
MORE MUST-SEES AND ACTIVITIES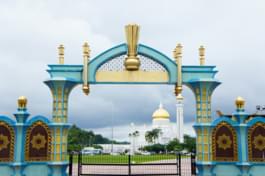 Sultan Omar Ali Saifuddin Mosque
Kuala Belait with the Palace of the Sultan and the Silver Jubilee Park
Kuala Tutong with the Pantai Seri Kenangan, the "unforgettable beach".
Jerudong Park, one of the largest theme parks in Southeast Asia
Sultan Omar Ali Saifuddin Mosque
Istana Nurul Iman
Gadong Night Market