Book a rental car and discover Algeria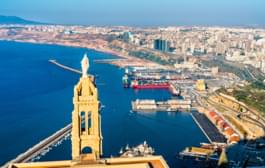 View over Oran
Travel the North African country of Algeria by rental car. Algeria is the largest state in Africa and the tenth largest country in the world. If you want to travel in Algeria by rental car, you can pick it up in the capital Algiers or in the cities of Oran, Batna and Annaba. Book your rental car from the comfort of your own home on Driveboo.com. The portal will help you compare offers and book at the best price.
Country information Algeria
Capital: Algiers
Neighboring countries: Morocco, Mauritania, Mali, Niger, Libya, Tunisia, Niger
Official languages: Arabic, Tamazight
Population: 41 million
Currency: Algerian Dinar
At which airports in Algeria can I pick up a rental car?
You can pick up your rental car for Algeria directly after your arrival at the airport. In this way you will be flexible and mobile in Algeria from the very first moment. Car rental companies are located at these airports in Algeria:
Don't miss these highlights in Algeria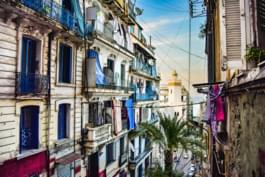 Discover the capital Algiers
Algiers is the capital of Algeria and is one of the most exciting metropolises in North Africa. The old town, where you can visit numerous historical buildings, is a UNESCO World Heritage Site. Stroll through the alleys and discover palaces and mosques from the Moorish period. Just park your rental car and discover the city on foot.
A trip to Algeria should also include a desert tour. In Tassili n'Ajjer National Park you can admire over 10,000 rock paintings and engravings. On the hikes you will sleep in tents. It is best to do such a tour in the winter months, as it is not so hot during the day at this time of the year.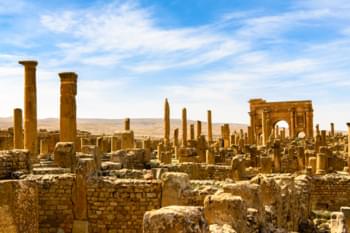 Ruins in Timgad
Also visit these highlights on a trip to Algeria:
Jardin d'Essai du Hamma
City of Timgad
Martyrs' Memorial
Beni-Hammad-Fortress
Gouraya National Park
Fort of Santa Cruz
Royal Mausoleum of Mauretania
What is the climate like in Algeria?
Algeria's coastal regions have a Mediterranean climate. In the warm summer months you can drive to the beach and enjoy the sun. In the highlands and desert the day and night temperatures fluctuate enormously. If you change from a rental car to a camel for a desert tour, you should always pack warm clothing for the night.