Rental car St. George: Discover the dream island of Grenada on your own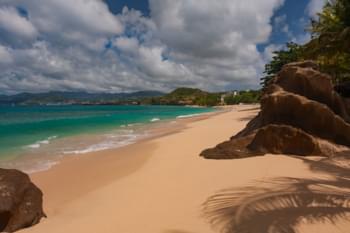 Dream beach in St. George
Have you always wanted to explore St. George Parish in Grenada by rental car? Then now is the perfect opportunity. Cruise through the capital of St George's in a cool rental car, enjoy the beautiful scenery or drive to the beach to relax. With a rental car you are always mobile and can drive flexibly to your desired places in St. George. Simply compare the prices of the car rental companies in advance online and book your rental car at a favourable price. Look forward to an exciting trip to St. George in Grenada.
Driveboo.com wishes you a pleasant and safe journey and lots of fun with your rental car in St. George!
Things to know about St. George and Grenada
St. George is a parish of Grenada located in the southwest of the island.
Grenada's capital St. George's is located in Parish St. George.
Number of inhabitants St. George: 37,000
Official language: English
Population Grenada: 108,000
Location: between the Caribbean and the Atlantic Ocean
Where can I get my rental car in Grenada?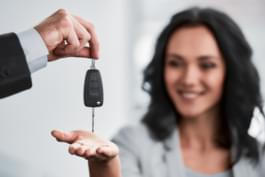 Car rental in Grenada
You can pick up a rental car at these locations in Grenada:
Book the rental car from the comfort of your own home. So you arrive relaxed on Grenada and can explore the island immediately.
These are the highlights in St. George
As you are always flexible and independent with a rental car, you can explore all the highlights in St. George and Grenada individually.
THE CAPITAL ST GEORGE'S
Leave the rental car and explore Grenada's capital St George's on foot. Stroll along the harbour, walk to Fort George and enjoy a magnificent view over the bay or visit the Grenada National Museum. The ruins of Anglican Church are also worth a visit. If you want a little more action, you can also take a sailing trip along the coast. There will be no boredom in St George's.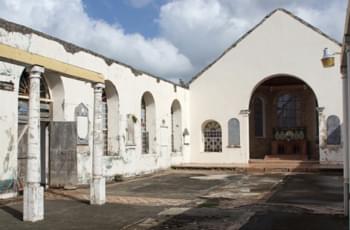 Anglican Church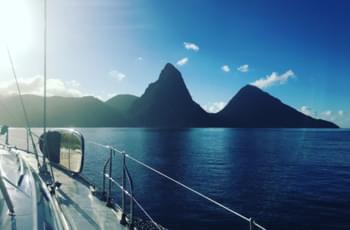 Sailing at the coast of St. George
Grand Etang National Park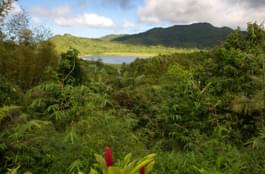 Grand Etang National Park
Grand Etang National Park is located in the centre of Grenada Island. Here you can discover the flora and fauna of the island. There are hiking trails with different levels of difficulty. Leave your rental car and explore the park on foot. In the middle of the park is Grand Etang Lake, surrounded by tropical rainforest and lush green hills. This is the ideal backdrop for fabulous holiday photos.
MORE HIGHLIGHTS IN GRENADA
What do I need to look out for in Grenada with a rental car?
If you want to book a rental car in Grenada, you will need an international driver's license and a credit card for the deposit. Grenada has left-hand traffic. You have to get used to this. After a few attempts on less busy roads this should not be a problem anymore. Drive very carefully, especially in the dark. There is not much light along the roads in Grenada. But also during the day you should always be attentive, because often children or animals run unexpectedly on the street. If, despite a careful driving style, an accident occurs, you can reach the police and fire department under the emergency number 911 and the ambulance under 434.
Typical food in Grenada
Oildown
Oildown is the official national dish of Grenada. It is not easy to prepare and has to be cooked for several hours. Oildown consists of the ingredients breadfruit, callaloo (spinach), various bananas, spices and coconut milk. You can also add pumpkin, okra and onions. Depending on the orientation of the oildown, chicken, pork or fish can be added. In general, the national dish is prepared mainly for folk festivals and on public holidays.
FRUITS
On the Caribbean island of Grenada, fruit lovers in particular get their money's worth. Juicy mangos, fresh pineapples, delicious papayas and exotic soursops are waiting for you. And what do you think of cocoa beans?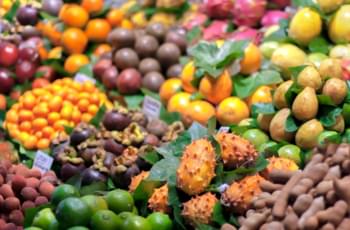 Fresh fruits in Grenada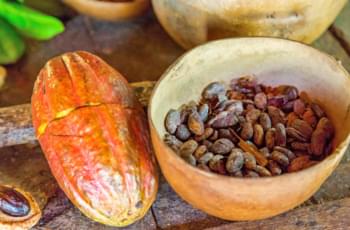 Cocoa beans
Roti
Also, you shouldn't miss the delicious curry dumplings on Grenada, which are mostly filled with potatoes and chicken. You can buy these at almost any rum shop from noon. Depending on your wishes, you can try the rotis in mild or fiery hot.