Rental car Nairobi Region: Discover Kenya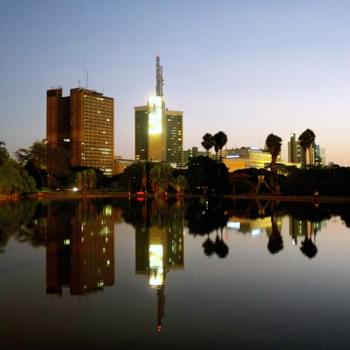 Nairobi in the evening
What do you think of an exciting trip with your own rental car to the Nairobi region? Explore the region where the Kenyan capital of the same name, Nairobi, is located on your own and follow the footsteps of the Big Five with your rental car. The best way to pick up your rental car is right after your arrival in Kenya's capital Nairobi. You will probably arrive at Nairobi Airport. If you pick up the rental car directly at the airport, you are mobile from the start and can explore Nairobi and the rest of Kenya independently. You can find the right vehicle for your trip on Driveboo.com. Simply compare the prices of the car rental companies and book your dream car at the best price. Look forward to an exciting trip to Nairobi by rental car.
Things to know about Nairobi and Kenya
Nairobi is the capital of Kenya in Africa.
Number of inhabitants Nairobi: 3,138,370
Population Kenya: 48,397,530
Area Nairobi: 693 square kilometres
Area of Kenya: 580,367 square kilometres
Meaning of the name Nairobi: "Cool River"
Book the right rental car for your trip to Nairobi
Model
May it be anything bigger for your trip to Nairobi? If you are travelling to Kenya on business or simply enjoy driving large cars, then you can book an SUV as rental car with Driveboo.com. If you are, on the other hand, travelling with the whole family and need a lot of space and storage, then a minivan would be a good option. For those who travel a lot in the centre of Nairobi, a small car is recommended. This car is manoeuvrable and is guaranteed to fit in even the smallest of parking spaces. As you can see, there is something to suit every taste when it comes to rental car models.
EQUIPMENT
You will also find what you are looking for with us when it comes to equipment. Would you like a rental car with air conditioning, automatic transmission and all-wheel drive? No problem! Simply enter your wishes into our search mask and choose the vehicle that suits you best.
FURTHER SERVICES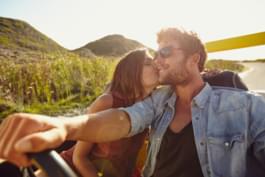 Make use of the additional driver option
You are not travelling alone, but with friends or your partner to Nairobi? Then the additional driver option might be something for you. Simply specify an additional driver when booking your rental car. In that way you can take turns driving the rental car so that no one gets tired of driving long distances. Remember, however, to show your driver's license and ID card to the local car rental company.
If you want to enjoy your trip to Nairobi and the rest of Kenya completely stress-free, we recommend that you take out fully comprehensive insurance without excess. So even in the event of damage, you will not have to pay any additional costs.
Which highlights should I visit in Nairobi by rental car?
Nairobi National Park
Nairobi National Park was opened in 1946 and was the first national park in Kenya. Visit the national park by rental car and follow in the footsteps of the 80 mammal species and over 500 bird species. Especially rhinos find shelter here. You don't have to drive far by rental car, as the park is only 7 km from Nairobi's city centre. From the park you also have an excellent view of Nairobi's skyline. Look forward to an unforgettable trip.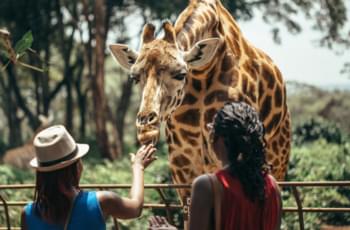 Nairobi National Park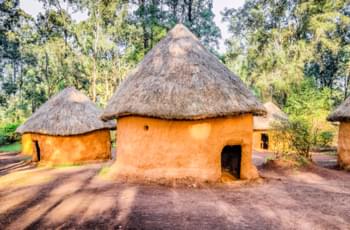 Clay huts in Bomas of Kenya
Bomas of Kenya
The village of Bomas of Kenya is located in Langata near Nairobi. It was founded to give an insight into the development of traditional villages of former Kenyan peoples. Leave the rental car and dive into another world. Here the different unique peoples and cultures of Kenya are preserved. Bomas of Kenya is also home to Africa's largest theatre with 3,500 seats. If you are lucky, you can follow one of the traditional dances of the different Kenyan peoples.
MORE HIGHLIGHTS
Discover Kenya's national parks by rental car
Kenya has a large number of national parks. Therefore, you might get into a decision-making dilemma. If, however, you are travelling in Kenya with a rental car, you have the privilege of being able to move flexibly. So it is open to you to visit different parks instead of just one. Below, we give you an overview of the most popular national parks in Kenya. Look forward to breathtaking landscapes and follow in the footsteps of the Big Five.
Serengeti National Park
Masai Mara Game Reserve
Lake Nakuru National Park
Mount Kenya National Park
Samburu National Park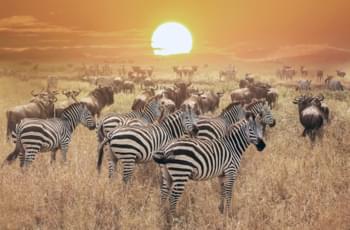 Serengeti National Park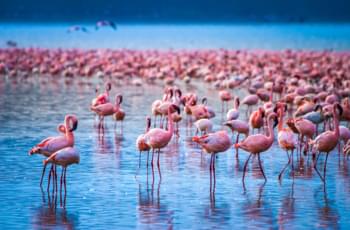 Lake Nakuru National Park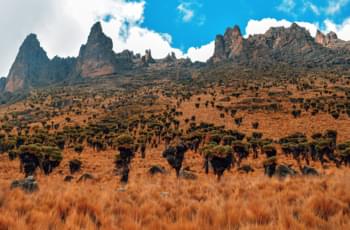 Mount Kenya National Park