Rentalcar Kayseri Province: Travel independently through Turkey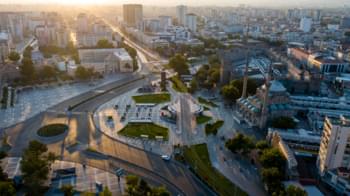 View of Kayseri
What do you think about a trip with a rental car to Kayseri Province in Turkey? We think that's a good idea. Kayseri is a province in Cappadocia and can be perfectly explored with a rental car. Visit sights like the town of Gezi, waterfalls and much more with a rental car. With a rental car, you are always flexible and can travel around the province of Kayseri independently of public transport. You will find the right rental car for your trip to Kayseri Province on Driveboo.com. Our portal compares prices of car rental companies in Kayseri and negotiates the best deal for your rental car in Kayseri. Look forward to fantastic scenery and exciting sights in Kayseri.
Car rental Kayseri: Where can I get my rental car?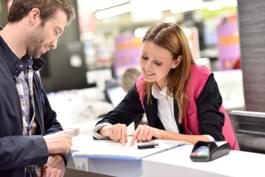 Pick up your rental car directly at the airport
In the Kayseri region, you can pick up your rental car either in the capital of the same name, Kayseri, or at Kayseri Airport. If you are travelling to Kayseri by plane and wish to be mobile as soon as you arrive, we recommend that you pick up your car at one of the car rental agencies at the airport. This way you can start your well-deserved holiday without any detours. After your arrival, simply follow the signs at the airport. If you book your rental car online in advance, you will not have to worry about long waiting times in Kayseri.
When is the best time to travel to the province of Kayseri?
You can travel to Kayseri at any time. Depending on your plans for Kayseri, the warm months are better suited than the cold. The warm months last from April to October. It can be very warm in Kayseri, especially in July and August. In April and May, however, there is more rainfall. In the winter months it can also become very cold. These months are ideal for winter sports.
The table below gives you an overview of the temperatures and rainfall in Kayseri:
What you should pay attention to with a rental car in Turkey
In order to avoid heavy fines, you should always follow the traffic regulations in Turkey when you are travelling with a rental car. You should be aware of the following general rules:
In Turkey there is right-hand traffic.
Speed limits: 50 km/h in cities, 90 km/h outside cities and 120 km/h on motorways
The blood alcohol limit is 0.5 per mille.
In the event of an accident, inform the appropriate facilities immediately. The emergency numbers are as follows: police 155, ambulance 112 and fire brigade 110. Breakdown service is available at 0212-278 62 14.
Which sights are worth a trip with a rental car?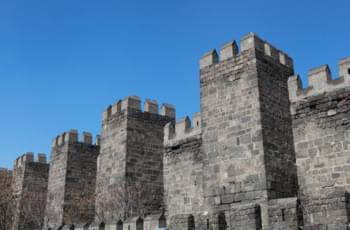 Kayseri Castle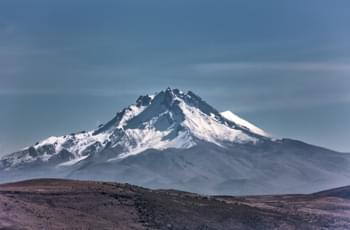 Mount Erciyes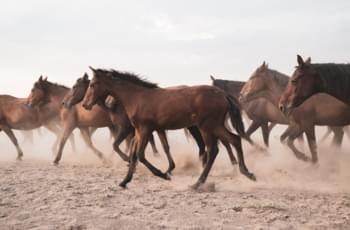 Yilki horses
Kayseri Castle
Take a rental car to Kayseri Castle and immerse yourself in a bygone era. Built in ancient times, the castle has been extended over the years and consists of 18 towers. The interior will soon house Kayseri's Archaeological Museum.
Mount Erciyes
Would you like to do some sports in Kayseri? Mount Erciyes is a 3917 m high dormant volcano located just 25 km south of Kayseri in Cappadocia. With a rental car you can reach Mount Erciyes within a short time. The mountain is one of the landmarks of Kayseri. The last eruption took place several thousand years ago. So you can go on a hike without any worries and enjoy the beautiful landscape.
More Highlights
Zeynel Abidin Tomb

Kayseri Clock Tower

Yilki horses
Balloon flight over Cappadocia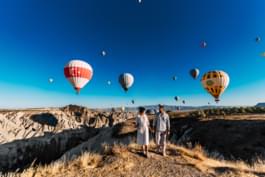 Balloon flight over Cappadocia
You want your trip to Kayseri by rental car to be an unforgettable experience? Then there is one thing you should not miss: a balloon flight over Cappadocia! Discover the enchanting Cappadocia from a bird's eye view. The view is most beautiful at sunrise. Look forward to an unforgettable atmosphere high above while you admire the landscape and the other balloons. It is best to bring warm clothes, as it can get very fresh early in the morning so high up.