Rental car Asunción Capital District: Discover the capital of Paraguay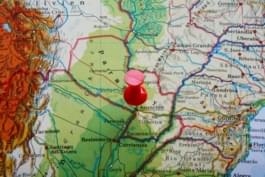 Asunción in Paraguay
Book a rental car for the Asunción Capital District and explore the capital of Paraguay. Asunción is waiting for you with a variety of sights that you can visit comfortably with a rental car. You can find the right vehicle for your trip to Paraguay on Driveboo.com. Our portal compares the prices of car rental companies in the Asunción District and shows you the best deal. Book your rental car online in advance and look forward to an exciting stay in the Asunción Capital District.
Where can I find car rental in Asunción Capital District?
In the Asunción District you will find car rentals both at Asunción Airport and in the city centre. If you are travelling to Paraguay by plane, it is a good idea to pick up your rental car at the airport as soon as you arrive. In that way you don't have to wait for public transport and can start your well-deserved holiday right away. Alternatively, you can also find car rentals in the city centre.
These are the options for your rental car in Asunciónn
In order to experience a perfect journey through Paraguay a suitable rental car should not be missing. With a rental car you are always mobile and independent and can drive flexibly to your desired places. On our portal you have the possibility to select different options for your rental car: vehicle category, vehicle features, insurance benefits and much more.
VEHICLE CATEGORY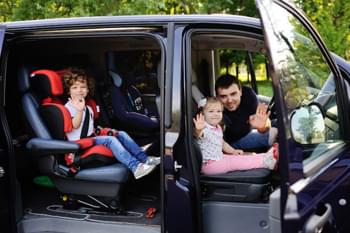 Enough space in the minivan
Are you travelling with the whole family to Asunción or do you have a lot of luggage? Then a minivan is an excellent choice. Not only will your loved ones find enough space here, but your bags and suitcases can also be stowed easily. If, on the other hand, you are planning a city trip and mainly need a rental car to get from A to B, then a small car is also sufficient. Especially if you want to visit the different sights in Asunción, you won't have any problems. Small cars are manoeuvrable and fit into even the smallest parking space. An SUV, on the other hand, is perfect for travelling in the countryside and in the terrain.
VEHICLE FEATURES
As additional options, you can use the filters on our portal to set all-wheel drive, air conditioning and automatic. So the rental car is guaranteed to fit your wishes and needs in the district of Asunción.
INSURANCE BENEFITS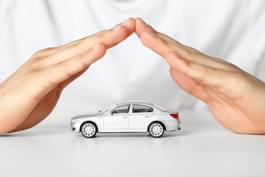 Rental car insurance
When booking online, you are literally overwhelmed with insurances for the rental car. Nevertheless, a rental car insurance policy should not be forgotten. We recommend fully comprehensive insurance without excess. This means that in the event of damage, you will not have to bear any further costs. You can also take out glass and tyre insurance as well as roof or underbody insurance. In that way you will drive safely in Paraguay.
Traffic rules in Paraguay: What should I pay attention to with my rental car?
In Paraguay, right-hand traffic applies.
With regard to the speed limit, you should always pay attention to the signs in urban areas. Out of town there is a speed limit of 80 km/h.
You should drive particularly carefully when it rains and at night, as the roads are often not in very good condition.
In an emergency, you can reach the appropriate facilities at the following emergency numbers:
With the rental car to the highlights in the Asunción Capital District
Cerro Lambaré
If you would like to get an overview of Asunción, it is best to drive your rental car first to the Cerro Lambaré. On the hill, which is only about 12 km away from Asunción, you can enjoy a monument and above all the view over the surroundings.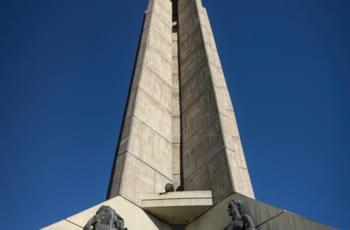 Monument on the Cerro Lambaré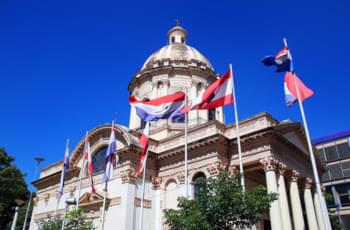 Panteón Nacional de los Héroes
Panteón Nacional de los Héroes
The imposing building Panteón Nacional de los Héroes is the landmark of Asunción. It is considered a national monument of Paraguay. The building is guarded by military guards and already looks impressive from the outside. Park your rental car near the Panteón Nacional de los Héroes and take a look inside. Under the impressive dome you can see coffins and urns of important personalities of Paraguay.
MORE SIGHTS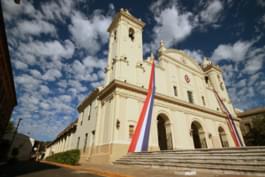 Catholic National Cathedral
Catholic National Cathedral
Casa de la Independencia
Palacio de López
Jardín Botánico
Museo del Barro
Manzana de la Riviera
Holy Trinity Church
Tasting delicacies from Paraguay
In Paraguay you can try many culinary delights. In any case, asado should be on the list. Asado translates as "roast" and not only describes a grilled piece of beef, but also stands for social gathering. In Paraguay they have adado every week. People sit together, eat, drink and make music. You shouldn't miss this on a rental car trip through Paraguay. Chipás is the ideal snack on the way. It is a pastry made of corn starch, eggs, cheese, milk and oil. When it comes to drinks, you should try tereré, a very popular traditional tea drink made from mate and infused with ice water.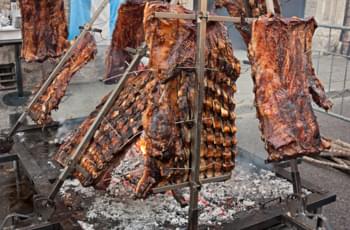 Asado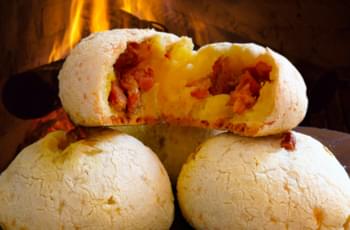 Chipás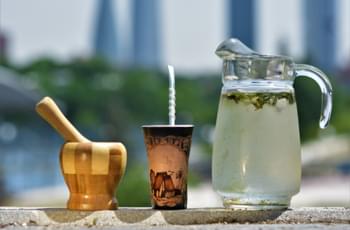 Tereré